Diaspora
YourHaitianTranslator Offers Translation Of Haitian Creole Video Captions Into English – Digital Journal
Hi, what are you looking for?
By
Published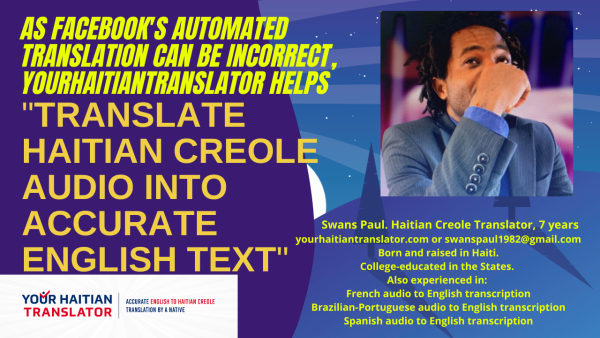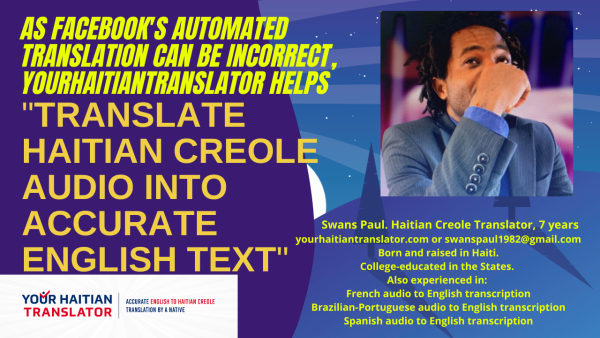 Swans Paul, the founder/owner of YourHaitianTranslator, has again shown his commitment to bridging the gap between businesses and the local Haitian community with the introduction of a service to deliver accurate English captions for Haitian Creole videos. In a related development, the experienced freelance Haitian Creole translator has highlighted the errors in Facebook auto-generated captions, stating that they "don't translate the Haitian Creole words correctly," making them unreliable.
There has been a steady increase in the demand for translation services, with notable companies entering the marketplace to meet the needs of businesses and other categories of clients. Unfortunately, many of the available AI-based translation services fail to deliver accurate translations, offering results that are often difficult to understand. The situation is not particularly different for video caption translations, which is where Swans, a proven Haitian Creole translator is looking to make a difference.
Swans launched YourHaitianTranslator with a user-friendly website that enables users to submit their specific English text and get Haitian Creole translations without paying through their noses. He also has a free YourHaitianTranslator YouTube channel with over 100 audio translations for a variety of different common phrases and scenarios.
For further information about YourHaitianTranslator and the services offered as well as English to Haitian Creole translation samples, visit – www.yourhaitiantranslator.com and YouTube.
About YourHaitianTranslator
YourHaitianTranslator was founded by Swans Paul, a freelance Haitian Creole translator with more than 7 years of experience working with agencies in different parts of the world. Born and raised in Haiti and college-educated in the States, the self-professed digital nomad has also worked on French to English transcription projects for companies in the UK, France, and Canada – transcribing audio recordings from French into English. With his team, he can also translate Spanish audios into English, as well Brazilian-Portuguese audios into English, having worked as a private tutor for Brazilian people in Boston and given various interviews on Brazilian radio stations.
Media Contact
Company Name: YourHaitianTranslator
Contact Person: Swans Paul
Email: Send Email
Phone: +59 59 81 87 04 38
Country: United States
Website: https://yourhaitiantranslator.com/

AI is high-value. This endless solve-nothing drivel isn't. Fix that. Enough with the Monsters Under The Bed garbage. Fix that while you're at it.
Pope Francis will visit a former residential school in Canada on Monday, where he is expected to make a historic personal apology.
Researchers describe trends in reported weight loss attempts among school-aged children and investigate the sociodemographic determinants.
Many mass produced foods, from ice cream to milk shakes to soy milk, are usually flavoured with artificial vanilla — but the real organic…
COPYRIGHT © 1998 – 2022 DIGITAL JOURNAL INC. Digital Journal is not responsible for the content of external sites. Read more about our external linking.