Diaspora
PETER YOUNG: Is history repeating itself for the Royal Family? – Bahamas Tribune
COPIES of the new book by Prince Harry called "Spare" are displayed at a book store in Berlin, Germany, last week. Photo: Michael Sohn/AP
As of Tuesday, January 17, 2023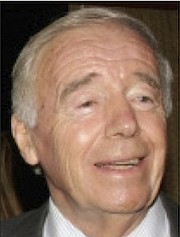 Peter Young
HAVING written only last month about the ructions following the Netflix documentary purporting to tell the story of the life together of the Duke and Duchess of Sussex, there is a danger of repetition in returning to the subject today. But, given the huge fallout from the subsequent publication of Prince Harry's explosive memoir entitled "Spare", which is reported to have become the fastest-selling non-fiction book ever in the UK, it is hard to ignore it all together.
It is the case, of course, that for many people gossip and scandal make the world go round. So there will always be excessive interest in what the Royals in Britain do, particularly now that Harry has spilled the beans with his endless list of grievances and petty slights in relation to the rest of the Royal Family, too many of which are unsubstantiated, clearly unjustified or just plain wrong.
Whether his so-called revelations are true or not, many people in Britain do not like Harry slagging his family off in public. But others enjoy reading about the scandal, so publication of "Spare" is to the delight of some people; not least around the world and in America where many are largely uninformed about the activities of the Royal Family with the result that Harry's claims are often falsely taken at face value.
There has been so much media coverage of the book during the past week that further comment today would be superfluous. The prince will know full well how wounding all this will be to his father and brother in particular and how it will infuriate them.
Suffice it to say that in Britain the terms being bandied about in reaction to Harry's actions include indiscreet, offensive, hypocritical, reprehensible, cheap and petty, together with immature, self-centred and intellectually challenged.
Many regard his references to his own genitalia and losing his virginity as sordid and banal while his claims about killing 25 Taliban insurgents during his tour of duty in Afghanistan have been heavily criticised by the military community as unwise, dangerous and unacceptable.
Many believe the prince is under the influence of a narcissistic wife whose motives and objectives in helping to sow discord remain unclear. Moreover, some people question whether Harry has become deluded and has lost all sense of judgment as his inability to come to terms with his mother's death have left him utterly self-obsessed, hypersensitive, shameless and incapable of seeing the damage he is doing to himself and his immediate family as well as to the Royal Family as an institution.
Be all that as it may, what could be of considerable interest, but which has apparently not attracted much press attention, is the similarity in certain respects of this latest crisis to the circumstances surrounding the abdication of his great-great uncle Edward VIII in 1936; and some are now wondering whether Wallis and Edward's so-called empty subsequent existence somehow will foreshadow Meghan and Harry's fate.
Edward reigned for less than a year before abdicating and relinquishing his royal duties, thus abandoning his royal destiny. He declared he had done this for the woman he loved, Wallis Simpson, whom, as an American divorcee, he was not allowed to marry while remaining king.
Like Edward, Harry and Meghan have emphasised "their great love" that drove them to quit royal life and find their own destiny.
Edward's younger brother succeeded him as King George VI as the couple, now with the title of Duke and Duchess of Windsor (bestowed on them in 1937), fled Britain to live in France where they forged a new life and married the following year — and some suggest parallels in this with the Duke and Duchess of Sussex's move to California?
The Duke of Windsor published his memoir, "A King's Story", in 1951 which documented, from his own perspective, his history-making decision to marry a divorcee against the wishes of the government of the day, the church and the monarchy.
His book was a success commercially as was his new wife's own later memoir which chronicled her earlier life and provided her view of the abdication crisis.
Their lucrative memoirs did not improve family relationships, nor did their continuing exploitation of the royal brand to endorse products and to conduct controversial media interviews. As a result, any hope of a reconciliation was dashed. The author of "Traitor King", Andrew Lownie, later wrote that the Royal Family maintained a dignified silence following publication of the two memoirs. But privately George VI was said to be "very distressed", particularly when he heard that the Duke of Windsor had taken a huge advance for his book.
Another historian, Alexander Larman, quoted the King's private secretary as expressing horror that someone should be making money out of spilling royal secrets.
Meanwhile, the only official role for Edward after the abdication was his service as Governor of The Bahamas from 1940 to 1945.
Events had created a long-lasting rift between Edward and his younger brother and successor who had been the "spare to the heir". In particular, Edward fiercely resented the fact that after the abdication Wallis was never granted the title of Her Royal Highness. He accused Britain of trying "to humiliate both her and him".
However, the brothers never got into a physical fight like William and Harry which, as recounted by the latter, supposedly ensued after the elder prince referred to his sister-in-law as "difficult, rude and abrasive".
Does all this not sound depressingly familiar? Is history repeating itself? It has been said that Harry has "detonated a huge landmine under Buckingham Palace". But the Royal Family have adopted the same strategy as in the 1950s – a dignified silence. The prince is now saying that his long-term aim is "to fix the monarchy" and it is about "trying to save them from themselves". The presumption, arrogance and absurdity of this is mind boggling.
Harry has been described as a peevish, petulant prince who wants the position but without the responsibilities. He has ended up like Edward VIII who ignored his destiny and broke away from his family to pursue his own path.
The King will surely come through this current crisis; but the sad reality is that it will probably not end well for Harry, who, like the Duke of Windsor, is an errant figure.
AS A FOLLOW-UP to last week's column about the folly of political leaders in failing to act in their own interests and those of their country, it might be interesting to mention very briefly today why this happens.
Barbara Tuchman, the acclaimed American author of a work entitled the "The March of Folly" that I wrote about last week, explains that it usually involves the rejection of reason.
She argues that this is a prime characteristic of such folly, with reason often overpowered by non-rational human frailties including ambition, anxiety, status-seeking, face-saving, illusions, self-delusions and fixed prejudices.
Thus, she says, "although the structure of human thought is based on logical procedure from premise to conclusion, it is not proof against the frailties and passions"; and men and women are invariably controlled by a life of feelings, desires and fears in the face of which the natural laws of opinion and reason go out of the window.
These are sobering thoughts, indeed – and they are worthy of further study, though there is no space to do that today.
THE BBC'S renowned Irish senior international correspondent, Orla Guerin, said it all when she visited Haiti last December. In a hard-hitting report she described the violence and killing there and the complete breakdown of law and order as some of the worst she had witnessed in 30 years of reporting from trouble spots around the world. With her reputation as one of the foremost war journalists internationally, who always gets to the front line and is intrepid and unflinching, she pulls no punches and her judgment can be relied upon.
So her reporting last month hit world headlines, albeit briefly as international attention quickly moved on. But only weeks earlier the UN High Commissioner for Human Rights had warned that the country was on the verge of an abyss as unremitting armed violence had pushed Haiti's descent into the worst humanitarian situation the country had experienced for decades.
He said that "urgent solutions" to this "protracted, multi-faceted crisis" must be found. Reportedly, armed gangs control much of the capital Port-au-Prince where the situation is said to be as bad as it has ever been and there are skyrocketing rates of murder, kidnapping, torture, rape and sexual assault. Now, despite reports that Haiti did not want outside help, the Prime Minister has issued a distress call for the international community to deploy "a specialist armed force" to restore order.
The current crisis dates back to the summer of 2021 when it was being said that this former French colony — the poorest country in the Western hemisphere that for many years has been a failed state – was already not functioning properly as a member of the international community because it was in the grip of terror and chaos and on the verge of civil war after the assassination of President Jovenel Moise.
Now, some 18 months later, the deterioration has accelerated in this Caribbean country, which is a member of Caricom and near neighbour of The Bahamas and is said to be in a state of electoral and constitutional turmoil while also now facing a mix of crises unmatched by any in its turbulent history – devastating gang violence, famine, cholera, fuel shortages and economic collapse. Criminals are said to have taken the country hostage and the state has surrendered control. So the immediate question is whether the situation needs to get even worse – if that were possible – before the UN intervenes yet again, having withdrawn its peace-keeping mission in 2017 which was replaced by a much smaller follow-up mission that was itself withdrawn in 2019.
According to all reports, since drastic action is required more and more countries are calling for a military mission to take on the armed gangs and restore public order but they seem reluctant to take the necessary action.
The UN Secretary General said in November that armed action was needed and many believe that such a force could be led by Canada which, like the US, is home to a significant Haitian diaspora, with Prime Minister Justin Trudeau quoted as saying "we have to intervene in one way or another".
That said, there appears to be limited momentum for an international force because Russia and China are likely to be against one and no country seems to be in a hurry to offer troops.
However, even though there is little appetite in the US for intervention following its ignominious departure from Afghanistan, there are reports that Washington is drafting a UN resolution to authorise a multilateral rapid action force.
Clearly, Haiti, which has been cursed by endless adversity in the course of its history – much of it inflicted by other countries but also through domestic political and economic failures and natural disasters like hurricanes – has reached a low point in the nation's fortunes and the only solution is outside intervention.
This is beyond the scope of CARICOM and must be at a higher and more influential international level, as commentators now suggest that some sort of mission to provide security assistance could be announced in the coming months.
For The Bahamas, there will be growing concern about the turmoil in Haiti – a country of some 11 million just to the south of the nation's archipelago – because of its likely effect on illegal immigration as more and more people flee their homeland.
Of course, uncontrolled migration from Haiti has constituted a serious threat to The Bahamas for many years as desperate people seek sanctuary in what is seen as a desirable destination that can also be used as a springboard to the US and Canada.
The UN's Human Rights chief has warned about returning Haitian illegal migrants to their own country, but mass migration from Haiti could quickly overwhelm this country.
So, for many people it will have been encouraging to read last week's press reports of assurances by the Minister of Labour and Immigration, Keith Bell, that the government is enforcing the country's laws by beefing up its efforts to intercept illegal migrants and repatriate them as appropriate after proper screening, evaluation and assessment.
Use the comment form below to begin a discussion about this content.








OpenID
Contents of this site are © Copyright 2023 Ellington. All rights reserved.