Diaspora
Man sought for Haitian president's death in Turkish custody – Your Valley
ANKARA, Turkey (AP) — Turkish authorities have issued a 40-day temporary custody order for a man considered a suspect in the July 7 assassination of Haitian President Jovenel Moïse and placed him …


To Our Valued Readers –
Visitors to our website will be limited to five stories per month unless they opt to subscribe. The five stories do not include our exclusive content written by our journalists.
For $5.99, less than 20 cents a day, digital subscribers will receive unlimited access to YourValley.net, including exclusive content from our newsroom and access to our Daily Independent e-edition.
Our commitment to balanced, fair reporting and local coverage provides insight and perspective not found anywhere else.
Your financial commitment will help to preserve the kind of honest journalism produced by our reporters and editors. We trust you agree that independent journalism is an essential component of our democracy. Please click here to subscribe.
Sincerely,
Charlene Bisson, Publisher, Independent Newsmedia


Click here to see your options for becoming a subscriber.
ANKARA, Turkey (AP) — Turkish authorities have issued a 40-day temporary custody order for a man considered a suspect in the July 7 assassination of Haitian President Jovenel Moïse and placed him in a prison in Istanbul, Turkey's state-run news agency reported.
The suspect, businessman Samir Handal, was detained at Istanbul Airport early on Monday where he arrived in transit from the United States to Jordan, Anadolu Agency reported. His arrest was announced by authorities in Haiti later on Monday.
Haitian Foreign Minister Claude Joseph said on his Twitter account that he spoke with his Turkish counterpart about Handal's arrest but gave no more details, including whether Haiti would seek the man's extradition.
Anadolu Agency said Handal was wanted on an Interpol notice and detained by airport police on arrival in Istanbul. He was later questioned by court officials who issued the 40-day temporary custody order which was requested by Turkey's Justice Ministry, the report said.
He is currently in Istanbul's Maltepe prison, the agency reported.
<!–//<![CDATA[
zoneId = '12';
var m3_u = (location.protocol=='https:'?'https://yourvalleybanners.creativecirclemedia.com/www/delivery/ajs.php':'http://yourvalleybanners.creativecirclemedia.com/www/delivery/ajs.php');
var m3_r = Math.floor(Math.random()*99999999999);
if (!document.MAX_used) document.MAX_used = ',';
document.write ("");
//]]>–>

Handal has been mentioned as a suspect in the plot to kill the Haitian president, although the government has not given any specifics about his alleged involvement.
More than 40 suspects have been arrested so far in the presidential slaying, including 18 former Colombian soldiers and several Haitian police officers. Colombian authorities have said the majority of its former soldiers did not know the true nature of the operation they were hired to participate in.
In October, another Colombian man was arrested in Jamaica.
Moïse was shot dead and his wife was wounded in a pre-dawn attack at his private home.
The presidential killing deepened the political instability in the country, which also since then has been trying to recover from a magnitude 7.2 earthquake that killed more than 2,200 people in Haiti's southwestern region in mid-August, a spike in gang-related violence and a severe shortage of fuel.
No comments on this item Please log in to comment by clicking here
Other items that may interest you
Most popular stories in Daily Independent
DON'T MISS A BEAT: Simply submit your e-mail address below, click on the opt-in email link and watch your inbox for news from the Daily Independent at YourValley.net. Thank you for reading!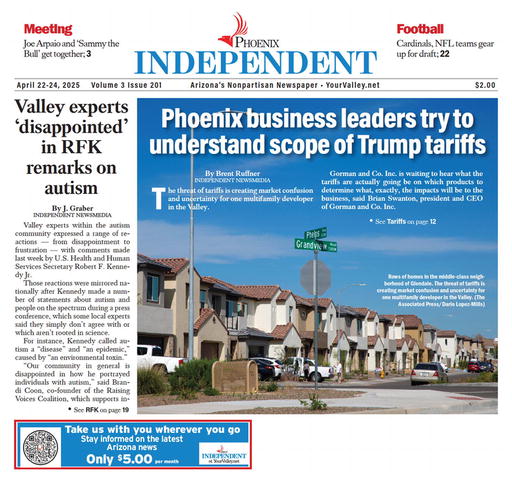 Read the latest print edition here.
View this issue
<!– Browse other issues –> Browse other issues
LONDON (AP) — Drugmaker Pfizer Inc. has signed a deal with a U.N.-backed group to allow other manufacturers to make its experimental COVID-19 pill, a move that could make the treatment available to …
Home Depot sales continue to surge in hot housing market
Man sought for Haitian president's death in Turkish custody
German agency suspends approval process for Russia pipeline
French police evacuates migrants from makeshift camp
UK police release 4 men held over Liverpool taxi bombing


YourValley.net
623-972-6101
17220 N Boswell Blvd
Suite 101
Sun City AZ 85373
Email: azdelivery@iniusa.org