Diaspora
Haiti police to probe death of reporter during gathering – Daily Independent
PORT-AU-PRINCE, Haiti (AP) — Haiti's National Police said it has received orders to launch an investigation into the death of a journalist who witnesses say was struck in the head by a tear gas …
Already have an account? Log in to continue.
Current print subscribers can create a free account by clicking here.
Otherwise, click here to subscribe.


To Our Valued Readers –
Visitors to our website will be limited to five stories per month unless they opt to subscribe. The five stories do not include our exclusive content written by our journalists.
For $5.99, less than 20 cents a day, digital subscribers will receive unlimited access to YourValley.net, including exclusive content from our newsroom and access to our Daily Independent e-edition.
Our commitment to balanced, fair reporting and local coverage provides insight and perspective not found anywhere else.
Your financial commitment will help to preserve the kind of honest journalism produced by our reporters and editors. We trust you agree that independent journalism is an essential component of our democracy. Please click here to subscribe.
Sincerely,
Charlene Bisson, Publisher, Independent Newsmedia


Click here to see your options for becoming a subscriber.
Click here create a free account for posting comments. Note that free accounts do not include access to premium content on this site.
PORT-AU-PRINCE, Haiti (AP) — Haiti's National Police said it has received orders to launch an investigation into the death of a journalist who witnesses say was struck in the head by a tear gas canister as officers also opened fire on a group of reporters.
In a statement late Sunday, Police Chief Frantz Elbé offered his condolences to the family and colleagues of Romelson Vilsaint, adding that officers were forced to fire tear gas to control a "hostile crowd" attacking a police station in the capital of Port-au-Prince on Sunday.
<!–//<![CDATA[
zoneId = '12';
var m3_u = (location.protocol=='https:'?'https://yourvalleybanners.creativecirclemedia.com/www/delivery/ajs.php':'http://yourvalleybanners.creativecirclemedia.com/www/delivery/ajs.php');
var m3_r = Math.floor(Math.random()*99999999999);
if (!document.MAX_used) document.MAX_used = ',';
document.write ("");
//]]>–>

Witnesses told The Associated Press that journalists including Vilsaint, who worked for radio station Génération 80, had gathered at a police station in Delmas to demand the release of their colleague, Robest Dimanche, who had been detained while covering a protest on Sunday. Dimanche works at local Radio Tele Zenith.
The Association of Haitian Journalists also accused police of beating up several journalists and confiscating their equipment and other belongings, condemning what it called "anti-democratic acts of repression."
"The safety of media and free movement of journalists are essential for the full and complete enjoyment of freedom of the press, freedom of thought, freedom of expression and the right to information that make up democracy," it said.
Other items that may interest you
Most popular stories in Daily Independent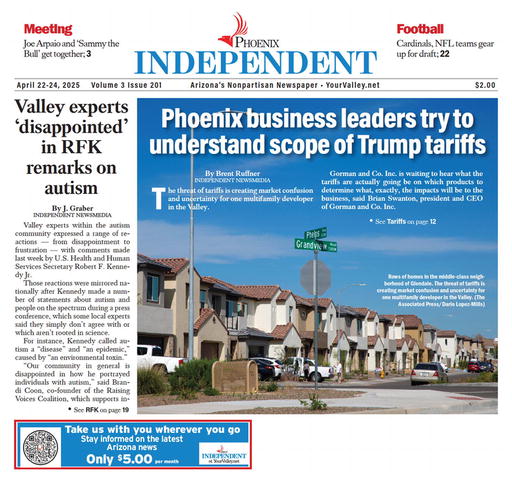 Read the latest print edition here.
View this issue
<!– Browse other issues –> Browse other issues
DON'T MISS A BEAT: Simply submit your e-mail address below, click on the opt-in email link and watch your inbox for news from the Daily Independent at YourValley.net. Thank you for reading!
There's an old saying that adversity makes you stronger. Real life shows that's not always true, but the adage highlights an evolving debate among scientists about resilience. After …
Haiti police to probe death of reporter during gathering
'Barbarian' director: 'original horror is working'
Wesley D. Cook
Wesley D. Cook
EXPLAINER: What Russia's suspension of grain deal could mean


YourValley.net
623-972-6101
17220 N Boswell Blvd
Suite 230E
Sun City AZ 85373
Email: azdelivery@iniusa.org