Diaspora
'FOOLHARDY TO LEAVE': More RBDF officers and weapons sent to … – EyeWitness News
PORT-AU-PRINCE, HAITI — Security at the Bahamas' Embassy in Haiti will be increased with additional Royal Bahamas Defence Force officers and more weapons following the kidnapping of a local worker last Thursday.
Eyewitness News understands that the woman employee had gone out to the ATM and was kidnapped as she arrived home sometime around 6am on September 1.
The family of the "long-time employee" is in talks with the kidnappers to negotiate her release, according to Foreign Affairs minister Fred Mitchell, who maintained the government was not involved in the matter.
There are 11 local staff and six diplomatic staff members at the embassy, including Chargé Commander Godfrey Rolle.
Rolle has been tasked with advising the minister on security conditions in Haiti and making recommendations for withdrawal if deemed necessary.
He told Eyewitness News he personally believed it would be "foolhardy" to shutter the embassy given the critical need to interact with Haitian authorities on the ground.
"This is my personal opinion," he said. 
"The fact of the matter is The Bahamas and Haiti have had a history for decades and The Bahamas is the only CARICOM country that has an embassy in Haiti, and for obvious reasons.
"We have a lot of Haitians, or Haitian Bahamians, or whatever the designation is, living in The Bahamas. We also have a migrant problem. It would be foolhardy for us to close our embassy and not have any contact with the Haitian government on the ground when we have all of these factors in play."
Mitchell has confirmed the government has not issued an order for their withdrawal but diplomats are free to return home if they want.
"We asked them, if they wish to come home they can, but we haven't ordered a withdrawal because we need diplomats in the place," Mitchell said in an interview on Saturday.
"We are taking some additional security measures, I think additional defense force officers going in and it will probably be an increase in the weapons as well so those are the steps we're taking.
Mitchell added: "[Rolle] he's been asked to tell us when he deems it prudent for us to get out of there but at the moment he doesn't think so."
In a release on Saturday, the ministry advised that the matter has been reported to the police in Haiti and is being investigated. It added that while additional security measures are being taken, the diplomatic staff generally are not at risk.
"Our prayers are with the victim and family for a safe and speedy return. We will assist the authorities to the extent that we can," the statement read.
Kidnappings and gang violence have reportedly surged in Haiti in recent weeks as it continues to grapple with political and economic instability. The United Nations Office for the Coordination of Humanitarian Affairs (OCHA) reported last month that hundreds of people have been killed in clashes with gangs in Haiti's Cité Soleil since July.
In a statement, former Foreign Affairs minister Darren Henfield expressed concern over the incident and expressed hope the matter is resolved satisfactorily.
Yesterday, Rolle explained that gang activity has been a longstanding challenge in Haiti. He said he believed the Haitian National Police are getting a better handle on the gangs in the areas where they operate. Rolle furthered the embassy and housing for its diplomatic staff were located in a business and shopping district that is more heavily policed.
He noted that there were some locally employed staff that lived in areas where there is gang activity.
Rolle said both diplomatic and local staff have been advised not to come to work if they don't feel safe, and not to return until they do.
"It's as safe as it could be," he said of embassy operations.
Rolle continued: "I've spent a total of seven years in Haiti. I first went as a part of peace keeping force when [former President of Haiti Jean-Bertrand Aristide] came back and as with any place you have to use common sense. 
"There are some placed in New York or Washington where it probably wouldn't make sense to go and the same applies for Haiti. For us in the diplomatic field, we are as secured as you can be."
This is so stupid the prime minister need to get the Bahamian people out of that crazy place , they are killing there own people , and now they are all fleeing to our country to bring more of there Haitian gangs to our island . Are government is Catering to the Haitian people , because his ass is one too.
Woow as haitian i respects your opinions.. just want you to know bahamas is not better than Haiti .. we make history and we proud about it , what did you get in your history could make you more proud than us ..
The Caraibeans have a White Christian Supremacy that always puts a wedge between them as divide and conquer. Deal with Caraibean issues in brother n sisterhood fashion the rest is history. Do it
Hey watch ya mouth bout the Bahamas yall 🇭🇹 peoples always go other places and fuck it up
Then you should go back to your Country with all that HISTORY and GANG VIOLENCE and try to make a difference.
Bahamas is not better than haiti.you people should get the fuck put off other people country to,they come to us build the gang,that the reason us deported them like animal
I like the way you're answer😇
Now I'm trying to understand why you here calling Haitian gang mean while Bahamians are worse, I work with both Haitian and Bahamian I gotta be honest with you y'all Bahamian ain't all that honest. I think the reason people think Bahamas is better than Haiti is because y'all only show the tourists the clean part of Bahamas, but Bahamas is dirty as heck, same poverty, so don't come here talking like your country is better than Haiti, and I think you need to learn history because you start looking down to Haiti.
First of all honesty has nothing to do with haitian or bahamian or any other nationality.
It has to do with the individual themselves.
I hope you dont reside here because the way you are talking clearly shows you have a problem.
If you hate it here so much and identifying so many flaws in our country,then go back to Haiti.
That an easy fix.
Yall like to diss other people country but wouldnt go back home to try and develop your own.
I've never heard of a island name Bahamas before.
You're a fool,big fool.USA got more insecurity than Haiti and you bahamians keep going there, the bahamians are not more civilized than haitians.Only the poors go there,i remember how most haitians used to laugh to some people going to bahamas to work when we are the ones who used to feed you,in case you dont know,until know there so many bahamians family in Haiti.Chicago is the kingdom of gangs,so why people keep going in the US? I can see that youre not educated.Take a look of the haitian history and you will know why the world is fighting us,youre foolish.
Stupid
Bahamian can talk all they want about Haiti and Haitians. But at the end of the day we are all black ppl trying to make it we should have each other back instead of feeling more superior.Than other individuals
We need help, too many people's are dying including children, we need some enforcement Is time to let other county to help us
This is exactly what our oppressors were looking for back when we were enslaved. This is what they are looking for, and will continue to look for us to turn against each other. As Black people if we are united, we can do great things. Our countries cannot be called "shitholes" anymore.
Amen to that!
Why HAITI, after got free of the French pe0ple must to pay to preserve they freedom, gains with blood and sa manny peple died
Po diab Ayitien ak Bahamien!
🙏
Why do we hate each other? We are the same people. You have been brain wash to think one is better than the other person, you're still thinking like a slave, you will turn on your on brother an sister because the slave ship place you their an me over here.black people wake up!!
I wish I knew where to start. I'm not here to talk down to any black country, but it's time for you black folks to wake up and smell the coffee. Sitting here talking about that Haiti is better than Bahamas or Bahamas is better than Haiti is just none sense, just think for a moment that this is the 21st century and it's time for black people to unite to find ways to solve our problems. Let's all be honest…I understand that Bahamas as a country is not any better than Haiti, but you have to understand that they're better organized than Haiti. The Bahamian government has a zero tolerance for gang members, but the Haitian government encourages gangs' activities in Haiti because they are also part of the problem. At the end of the day, it's not what country is better. Rather, it's time for the Haitian government to put a system in place to assure security for all the citizens of the country, and establish a zero-tolerance tactic for GANG MEMBERS. Sitting here comparing Haiti with Bahamas won't get us anywhere, but deeper in calamity and misery. As Haitians what do we do to get respect from other countries? All we do is blaming others for our problems while hating and killing one another. Wake up Haitian people! I've been away for 31 years, and I can't even go for a vacation. Instead of finding a way to combat and destroy those criminals, the gangsters that actually cripple the country, and all you're doing is talking trash about other country. Our history could have meant something, if we were not so evil…ya gotta be ashamed of what's going on in Haiti right now. I believe that I've said enough, and please pray for a better Haiti. Thank you.
This is the best opinion '🙏🙏🙏
Thank you Mr. max.
Say no more🙏🏾🙏🏾🙏🏾🙏🏾🙏🏾
I'm tired of Haitian when they keep on bringing history every time something bad is going on.
Yes Haiti have one the best history if not the best.
But this is not about history, this about us to make our government do what was spouse to be doing so Haitian can stop go to other countries undocumented . Yes it's sad some time to hear a other black nation looking down on a other black nation after all haiti have done for humanity, but right now f#$% history don't come act like you mad when someone trash talking Haiti, the real person you need to get mad to is the Haitian government because they're the one making the country the eay it is now.
Because about 40 years ago, Haiti was the best Caribbean in this continent.
So all I'm saying is, if you really want to get, get mad at the haitian government that's turned Haiti from the best to the worst.
All I have to say is 'Blessed is the nation whose God is the Lords'
The bible says….
If my people who are called by My Name should humble themselves and pray and turn away from their wicked ways then i shall heal their land.
The Bahamas is a blessed country.
We might not be perfect but we serve,worship and acknowledge Jesus Christ as our Lord and savior.
The majority of every government in different countries around the world are corrupt, and countless corruption takes place.
But that doesnt stop the bahamas from being blessed.
If we all want to be real the entire world wants to come to the bahamas to live because of better oppurtunities and dont want to return home.
Wickedness has stopped haiti from being blessed.
Before you'll consult Jesus.
You'll depend on underhand work to solve all of your problems.
Drop the obeah
Drop the witchcraft
Drop the voodoo
Drop the sorcery
And stop blaming the government.
Take a look at the man in the mirror before you blame anyone for what is happening to your country.
Repent
Repent
Repent
And watch Jesus heal the land..
I seal this message ..
In the Blood
With the Blood
By the Blood
And through the Blood of Jesus Christ.
In Jesus's Name….Amen
Blessings and favor to all…
I think the gang members most likely know their prey. They act out on purpose when dealing with personalities like diplomats and authorities. The presence of force should be the way to maintain order and stop them in their actions.
God bless all of you either Haitian Jamaica Bahamian just know we are all one blood. Yes Haitian are bad but only ones Yes Bahamian are bad but only bad ones.
You find good in bad in all NATIONS people I am Haitian lives in USA but Number one Country in the world is USA right but they are some bad Guys not only killing but massacre. Remember that water (ocean) decided us we are one. Thank you
So sad to see all them bad comments about Haiti some of you will never understand, tell yall live it
We need to get our people out of Haiti. Stop wasting time there. Our RBDF Marines can be used here, to Hell with Haiti. That Country is a wast of time and money bring the staff and our RBDF personal home.
Yes, bring our men back home. Forget about that God-forgotten place. There is no solution for the Haitian. I think that place God has turned his back on them.
I just did workshops for hospital personal in Cap Haitien. Nice people. I would suggest you look at the solution to the gang problem in another over-populated country , El Salvador.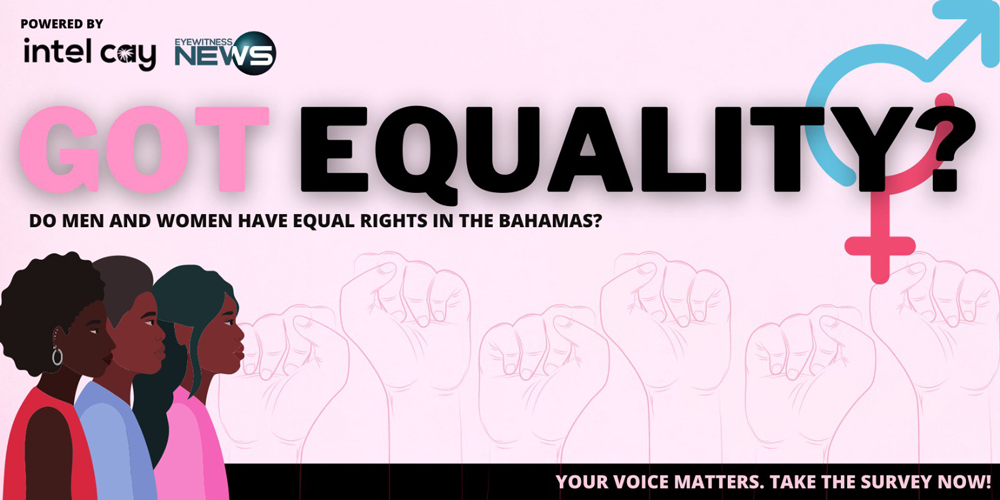 Take The Survey

Does the crypto industry need more regulation by the Bahamas government?