Diaspora
Denver's First Haitian Food Truck Plans to Debut in October – 303 Magazine
For advertising, event sponsorship, media kit, monthly specials:
[email protected]
303.888.5455
Denver's only Haitian restaurant, Taste of Haiti, shut its doors in Five Points back in February 2019.
Between feeling homesick and recognizing the city's urgent need for more diverse cuisine, Farah-Jane JeanPierre has been preparing to introduce her own taste of Haiti to Denver with her new food truck concept, Fritay Haitian Cuisine, ready to roll out this October.
"I started calling my mom and aunts and practicing the dishes. My aunt and mom would give me the recipes and I would put my own touch. When the Haitian restaurant closed, I think that's when I had the idea of opening my food truck," JeanPierre said.
JeanPierre moved to the United States in 2010. She first landed in New York City, staying with family and pursuing a career in cooking and hospitality. Then, she packed up to Jersey City to pursue a degree in culinary arts. "It wasn't really a big culture shock in the East Coast because you find a lot of diversity — I could find a Haitian anywhere. But when I moved to Colorado, the culture shock definitely hit," she said.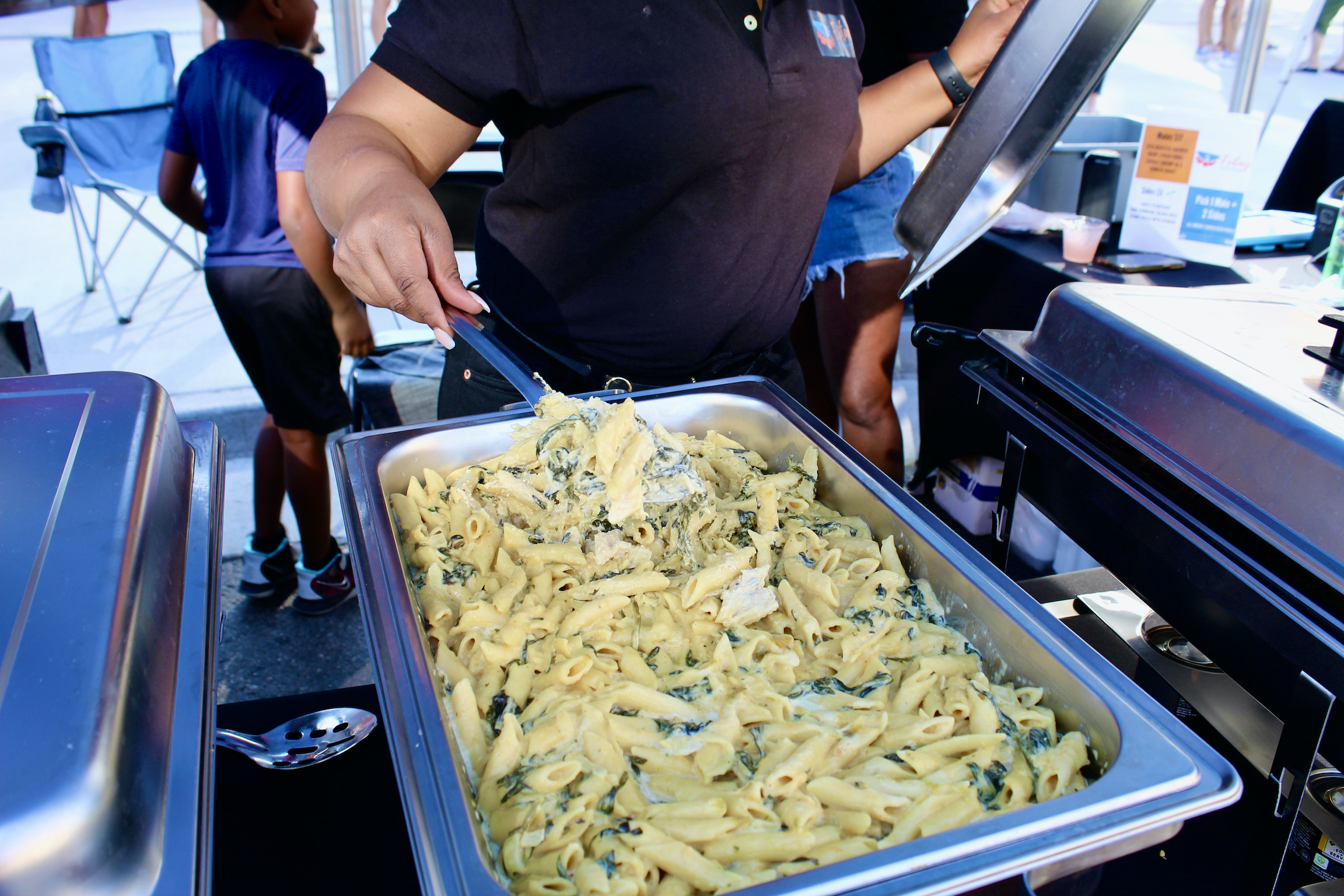 Despite Denver's lack of worldly cuisine and surplus of overpriced craft beer, JeanPierre decided to stick around in Colorado. "I'd have friends come over and cook for them, some Haitian and some American. One of them suggested opening a food truck, knowing that I love to cook. When I thought of 'food truck' all I saw was dollars signs — they're expensive and I didn't know where to start," she said.
With the average food truck op averaging between $40,000 to up to $100,000, she needed some support getting her business off the ground. She connected with the Mi Casa Resource Center on Grove St., where she worked to expand her entrepreneurial and business skills to help get her idea off the ground. "I still work with them, they still support me, and that's how I ended up buying my trailer," she said.
To prepare for her official food truck launch, JeanPierre has been testing her recipes at catering and pop-up events around Denver and Aurora. She focuses on traditional Haitian dishes with a touch of inspiration from other cuisines, like Creole shrimp in tomato gravy, sweet plantains, duri djondjon (black rice with mushrooms from Northern Haiti), griot (a fried pork dish boiled and fried with a sour orange marinade) and roasted chicken marinated with epis, a Haitian spice blend consisting of herbs and spices like ginger, turmeric, onions and more.
"We use [epis] in every dish we make, usually it's one of our main things to cook within Haiti," she said. To JeanPierre, it's best marinated overnight. "In Haitian cuisine, that's what makes it unique. It takes time to cook, everything has to simmer. It's the love you give it."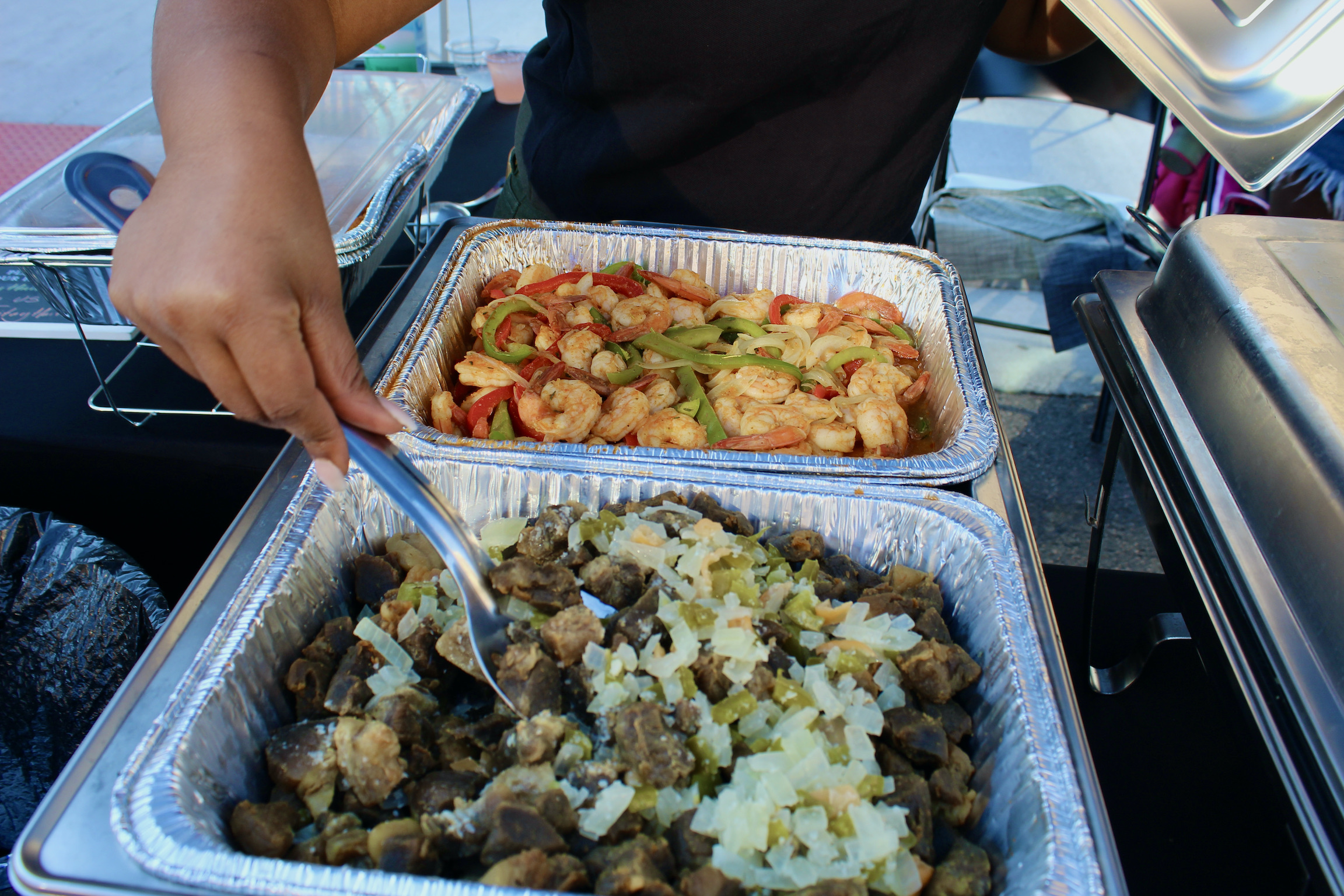 Fritay — meaning fried or street food in Haiti — consists of comfort food staples like malanga fritters, Paté Kode, a Haitian take on empanadas, and her famous griot and fried plantains. Referencing childhood recipes from her mom and aunt, while adding her own culinary touch into each dish, JeanPierre wants to bring that nostalgic comfort to Denver.
"Growing up in Haiti, even after dinner and everything, we'd crave Fritay and then we'd go out for some," she said. "There's vendors and street food on every corner and neighborhood in Haiti selling Fritay."
JeanPierre's father was a lawyer and her mother worked in banking, but she gravitated towards cooking at a young age. Family dinners were her thing, and it's where she got practice cooking for large groups of people. Then came the school events, and eventually she realized she had a knack and niche waiting for her in the culinary world.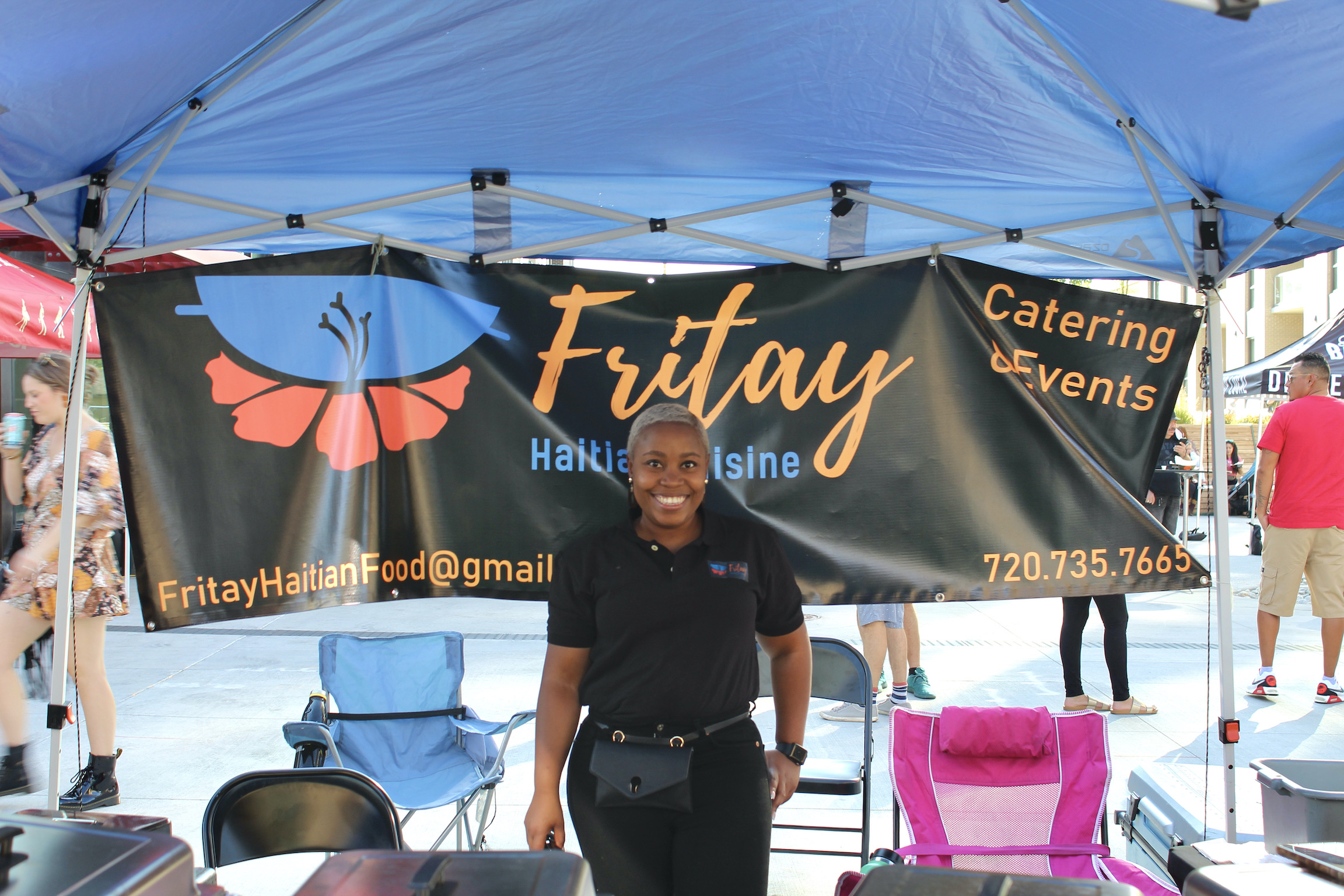 JeanPierre anticipates that the City of Denver will approve her permit by the end of October.
"I wanted to bring this to Denver because it's new and nobody knows what Fritay is. They don't really know about our cuisine here, but I'm planning on introducing specials almost every week so I can bring other Haitian dishes to Denver," she said.

All photography courtesy of Hilal Bahcetepe.
303 Food303 MagazineColorado Haitian FoodDenver FoodDenver Food Newsdenver food sceneDenver Food TruckDenver Haitian foodDenver new food truckFarah-Jane JeanPierreFritay Haitian CuisineHilal Bahcetepethings to do denver
Hilal is a contributing writer at 303 Magazine covering culture, the arts and local events. When she's not writing, you can find her scrolling through her phone or ranting about the news.
Your email address will not be published.






303magazine
Oct 29
Denver Fashion Week is 20 days away and it's time to grab your VIP runway seats! Follow the link in our bio and use 20DFW promo code for 20% off for the next 24 hours!
.
.
.
#denver #denverfashion #denverfashionweek #303fashion #303magazine #denverdesigners #denverfashionscene …
303magazine
Oct 28
Just when you thought Denver's culture and music scene couldn't get any funkier, a new event production company has launched with fun at its core. Into the AM, born solely from a love for making music and curating events, was founded in August and is already taking Denver by storm. The intention is to be a vessel for people who have the means to throw extravagant parties but lack connections to venues, talent and production in Colorado markets ranging from Denver to Aspen. Link in bio to read more.
.
.
.
.
📝@nattyyacoubb
📸 Photo Courtesy of Into the AM
#denvercolorado #denver #denvermusician #denvermusicscene #denverband #303music #denvermusic #303 #303magazine …
303magazine
Oct 27
Denver Fashion Week is 3 weeks away and we have another giveaway to keep the excitement going. Like and share this post to your story (and be sure to tag us) for the chance to win two VIP first row tickets to DFW Sustainable Fashion Show on Sunday, November 21! The winner will be announced at 12:30pm this Friday.
.
.
.
#denver #denvercolorado #denverfashion #denverfashionweek #dfw #denverfashionscene #303magazine #303fashion #denverfashiondesigner …
303magazine
Oct 26
Denver has some thrilling events lined up this week. Start it off by laughing a little at an Open Mike Comedy Show and end it with a spook-tacular Drag Queen Bingo Brunch. Grab a Salted Oreo Milk Stout at Little Man Ice Cream and check out the 4th annual doggie costume contest. Wherever the week might pull you, make sure to take a look at this roundup of events happening in Denver. Link in bio to read more.
.
.
.
.
📝@justjengen333
📸 Photo Courtesy of Stem Ciders on Facebook.
#denver #denvercolorado #303magazine #303eats #thingstodoindenver #denverart #denvermusicscene …
303magazine
Oct 25
Are you ready? Denver Fashion Week is fast approaching, so don't forget to snag your tickets. This year's five day event will kick off with workshops on Tuesday, November 16 and end with an iconic runway show on Sunday, November 21. Link in bio for tickets.
.
.
.
#303 #303magazine #303fashion #denver #denverfashion #denverfashionweek #dfw #denverfashionscene …
303magazine
Oct 22
Years in the making, the Denver Art Museum (DAM) is ready to finally unveil its new 50,000 square-foot Anna and John J. Sie Welcome Center, connected to the revamped Lanny and Sharon Martin Building, to the public on October 24 in celebration of the building's 50th anniversary. As the years have gone by, the DAM has eagerly explored ways to evolve the building's legacy and utilize its potential to create a more practical, inviting space. Link in bio to read more.
.
.
.
.
📝@hbahcetepe
📸@hbahcetepe
#denvercolorado #denver #denverart #denverartscene #303magazine …
303magazine
Oct 22
The winner of our DFW ticket giveaway has been chosen; congratulations @gracetaylor95! We've also created a special 15% promo code for those who entered to win our contest. Use code "DFWTAG" — valid for the next 48 hours! Link in bio.
#dfw #denver #denverfashionweek #denverfashion #denverfashiondesigner #denverfashionscene …
303magazine
Oct 20
Who would you bring to Denver Fashion Week? In the comments below, tag who you would invite for a chance to win two VIP first row seats for DFW Ready To Wear fashion show on Thursday, November 18th. One lucky winner will be announced this Friday at 12pm!
.
.
.
#denver #denverfashion #denverfashionscene #denverfashionweek #dfw #milehighfashion #303fashion #denverartists …
303magazine
Oct 20
Last Tuesday the New York Times published The Restaurant List 2021. As part of that culinary mosaic are two Colorado restaurants: Boulder's Frasca and Denver's Comal Heritage Food Incubator. Even though they are very different in food and style, the New York Times list included the two as among the "most vibrant and delicious restaurants in 2021." Link in bio to read more.
.
.
.
📝Maria Garcia
📸Photo by Comal Heritage Food Incubator via Facebook & Frasca via Facebook
#milehighfood #coloradofoodie #303food #303foodie #303magazine #303eats #denverfoodie #restaurants #eat …
303magazine
Oct 15
Denver Fashion Week returns in 30+3 days! Grab your VIP runway seats with our 30% discount promo code for the next 48 hours. Follow the link in bio to get your discounted tickets before they're gone!
.
.
.
#denver #denverfashion #denverfashionscene #denverfashionweek #dfw #milehighcity #milehighfashion …
303magazine
Oct 14
When it comes to the Velveteers, their trajectory is much like that famous quote, "luck is what happens when preparation meets opportunity." Nobody can say The Velveteers got get to where they are by luck as much as they were simply prepared for it. Despite establishing themselves six years ago in the local music scene, their newly released album, Nightmare Daydream (released October 10), is the band's proper introduction to the music world at large.
.
.
.
.
📝@_nedrew_enegas
📸@roxieeeee_
#denvercolorado #denver #denvermusician #denvermusicscene #denverband #303music #denvermusic #303 #303magazine …
303magazine
Oct 14
Support the pups at Pepper's Senior Dog Sanctuary while dancing the night away with Super Diamond at the 1st Bank Center on October 23! Tickets are selling fast — get yours today by following the link in our bio!
.
.
.
#sponsored #pepperspaws #dogs_of_instagram #banpuppymills …